4 most Versatile Portable Tables- Enhance Space Functionality in Style
Written by
toshnisharma
, In
Home Decor
, Published On
February 7, 2022
,
519 Views
Traditionally, there was no concept of having a portable table. Recent changes in the routine due to pandemic has raised a demand for work from home. Such work requires a comfortable table and seating to work due to the long working hours. Tables that take a larger space are not much useful than a portable table. Firstly, one never has this much space to install such tables at home. Secondly, it is not much space due to long hours, one can not stick to one place. It affects mental and physical health. For, such issues a portable table is best so that one can change their place after some time. Let us have a look at what designs suit best Multipurpose foldable and portable table!
4 most Versatile Portable Tables
If you are the one who works on a dining table or your traditional study table, then a portable study table is a must to buy. Working on a dining table restricts your family members to have their family time such as breakfast, lunch, and other households are already booked for dining table. Work from home is a concept of working at home for your office, which is your daily survival at spaces that you use for studying. But, this has now become working from every space at home, which is not healthy for your loved ones. They are restricting themselves, even at home, so that you can work peacefully.
the portable table in wooden material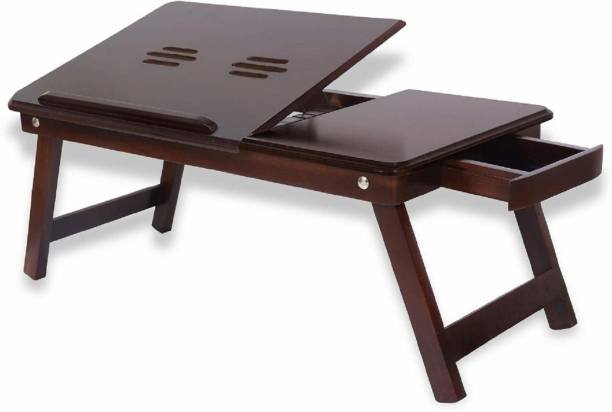 Get a nice portable table in wooden material in honey and walnut finish that depends on your choice.
Wooden Foldable and portable table: It is a bit heavy due to the material used for the platform and legs. But, at home, you can use a small portable table
Wooden portable table with drawers: A portable table with drawers adds functionality so that you can focus on work without any distraction, use a drawer to store all your essentials.
Metal legs portable table: They are foldable and you can carry them with you anywhere in your car and work from there.
Adjustable laptop portable table: A laptop table with an adjusting plank helps you to move your laptop to different angles. You can take your table and sit anywhere at home such as your sofa, bed, etc.
Large space portable table: With a larger surface area of a platform, it allows you to place your other essentials too, such as your coffee mug, smartphones, etc.
Height-Adjustable portable table!
A height-adjustable table is useful to work with different levels of seating. You can have your random chair at home to sit and work on it with such tables. Two sizes are available in this one is a single-seater adjustable table and another is a dual size platform height adjustable table. If you have a separate office area, then you can buy this for your home.
Single-stand portable table: A Traditional design with four legs unite to a single iron rod, above it a wooden platform whose height is adjusted to any your comfort. You will get two patterns in it.
Dual size height adjustable portable table: It can be used by two people at the same time. You will get this in budget.
Movable portable table!
A movable portable table is used by working ladies due to the household work they had to do along with official work. For offices, used in creative fields they have urgent demands of taking any machine model measurements.
Tuck-in portable table!
A most basic design with a tuck-in shape that helps you to move it under your kitchen counterpart so that you can cook in the kitchen while taking an office meeting. A wooden portable table helps to last long.
Be it your work from home or you're having your family picnic, enjoy with your loved ones while working anywhere with portable tables. When you look at the collection, it will have a variety for every possible situation for work. When you search for websites online, never get disappointed with the design, color and comfort it adds at a very reasonable price. If you are working in any industry that requires a laptop or desktop to work on, then such investment is a big yes.