SEO Platforms You Can Use Free
An essential part of any successful content strategy is quality content creation. The digital marketing process starts from content generation, passes through the publication, and ultimately waits for organic traffic. Even after carefully attempting all these steps, you may fail to get the desired results. This is true due to one reason that is, 'content optimization'. The blog/content published without content optimization usually has a lower rank in search engines. Further, without ranking high, your content cannot give growth to your business. Apart from all, even the finest quality content also needs content optimization to stand out among others.
What Is SEO?
Typically, content optimization or SEO (Search Engine Optimisation) is the process of optimizing your content to make it more visible online. Search engine robots rank highly optimized content higher on search engine pages than non-optimized content. Hence, content optimization involves a number of activities like using the right keywords, keyword density, adding the title, meta links, and search description.
What Are SEO Platforms?
In the light of the importance of content optimization in digital marketing, you must know about the content optimization platforms as well. A content optimization platform is software to perform SEO and content marketing strategy till final results. It helps with content optimization to deliver users a personalized web experience. Those looking for free-content optimization platforms must read this article until the end. This article by a top content writing service provider company will discuss a few content optimization platforms that are free and easy to access.
SEO Platforms You Can Use Free
Frase:
Frase is an amazing content optimization platform. It is efficient enough to decrease the content creation time up to 50%. Farse act as a catalyst that speeds up the whole content generation process. Farse is a platform that claims to make your content creation journey painless, from keyword searching to ranking. On the home page of Frase, you will get four main options that include content brief, content writing, content optimization, and content analytics. The insights into these options explain the ways in which Frase can help you in your writing career.
Moreover, this tool helps you in article summarisation or topics search. In the shortest possible time, it can search for the most relevant information for your keywords. Frase is useful in the identification of your writing flaws as well. It scores your content by comparing it with other similar content. But the Frase has a drawback because, sometimes, it confuses its users. The reason is it is the amalgamation of many tools, which often do not focus on content optimization as a whole. In conclusion, Frase is a good content optimization platform, though it unnecessarily confuses all users.
Clearscope: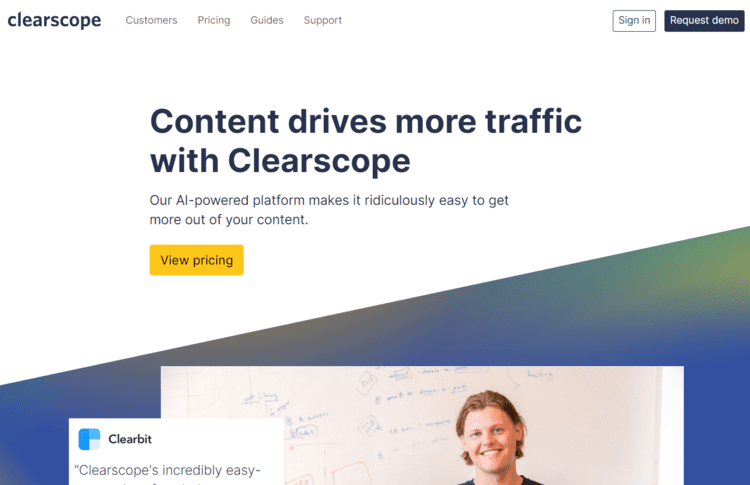 Among the list of content optimization platforms, Clearscope is more prominent due to many reasons. The motto of Clearscope is to create content that can drive desired results. According to them, to generate traffic, your content must be something more than searchable, clickable, and reachable. Clearscope built-in features help writers search the highly relevant content as per audience demands.
To put it in another way, Clearscope uses target keywords that help in the generation of strong keywords that make your content SEO-friendly. This content optimization platform is best for those who are professional writers. This is true as when a writer feels exhausted, then the Clearscope will help raise his morale. It gives the writer a push in the right direction. In short, you can surely trust its recommendations.
Apart from these exciting features, this tool has some drawbacks too. For instance, if you are using this for small-scale business, then nothing is better than it. However, for large-scale businesses, it fails to manage multi-projects. As a whole, you can use it for personal use as it is user-friendly and easy.
Google Search Console
Google Search Console is a product by Google and is a free content optimization tool. Even before publishing, it tells you how you can rank your content higher. This platform is generally good and effective to make the existing content SEO- friendly. It helps in content optimization by giving knowledge about how its algorithms work. It uses the same criteria that Google uses to rate the web content. Hence, you can surely trust the recommendation of Google Search Console. But for beginners, the content optimization platform is a little bit difficult to use. Still, with the passing of time, you can learn it and start feeling conformable with it. Other exciting features of Google Search Console include:
It is a great tool to provide information about keyword searching.
It also tells its users how they can rank their content in the Google search engine.
It reveals the popularity of the keywords, which is a major goal of the content optimization process.
Like Clearscope and Frase, it also helps you identify your content's flaws.
The best part of this platform is SERP. SERP means it will analyze how the site or the content will rank in search engine results pages.
SEO Surfers
This content optimization software is one of the cheapest in the market. It has everything that you may need; from identifying new content ideas to choosing the best possible keywords. The most exciting feature of this content optimization platform is the content scoring or grading system. This means that when you write an article, SEO surfers tell you how good it holds up for SEO. As Google Search Console, SEO surfer is an effective tool just like SERP analyzer, SEO auditing, and keyword surfers. It is helpful as it assists content generators by finding optimal keyword density. Importantly, it suggests content optimization by improving the search values.
SEMRush
SEMRush is an important content optimization platform that helps users in a number of ways. For example, if you are looking for tools for keywords search, content marketing, and rank tracking, then SEMRush is effective for all. Apart from these, SEMRush is equally important for on-page as well as local content search engine optimization activities. In addition, for link building, competitor SEO analysis, and social media management, SEMRush has no parallel. As a big picture, the usefulness of SEMRush is the ease of identifying keywords that satisfy your readers and ranking information for keywords and competition pages. In short, it is an all-in-one solution for all keyword search activities.
After discussing five content optimization platforms, we find that they all are effective in one or another way. Still, there are many overlapping functions among these platforms. Remember, different users often have reviews about these content optimization platforms. Thus, it is advisable to try each of the above platforms before selecting anyone as your SEO partner.