ASUS TUF Gaming Dash F15 Review
Written by
Deepak Bhagat
, In
Gadgets
, Published On
July 22, 2023
,
180 Views
If you want to review a laptop 2023, Asus's TUF Dash is can be considered as one of the reasonably priced all-purpose/gaming laptop series it offers. Although it is still an Intel-exclusive design and is slimmer and lighter than the full-size TUF Gaming models, it offers balanced performance for its price and is widely available in most locations. Be wary of the FHD 144Hz screen option and shoot for a set-up with the FHD 300Hz display if possible in your region.
ASUS TUF Gaming Dash F15 Specs
| | |
| --- | --- |
| Display | 15.60-inch |
| Processor | Core i7 |
| OS | Windows 10 Home |
| Graphics | Nvidia GeForce RTX 3060 |
| Weight | 2.00 kg |
| Touchpad | YES |
| Colours Available | Eclipse Grey, Moonlight White |
| Dimension | 252.00 x 360.00 x 19.90 |
| Price in India | ₹115,990 |
PROS
Choices for both Full HD (300 Hz) and Quad HD (QHD) displays
Lightweight and well-built for the class.
USB-C charging capability, reasonable runtimes for an Intel platform, and a low price tag make
The battery is more potent than the 76W battery of the 2021 generation.
CONS
Be wary of the FHD 144 Hz panel option.
There are still some oddities that may compromise everyday ergonomics.
Price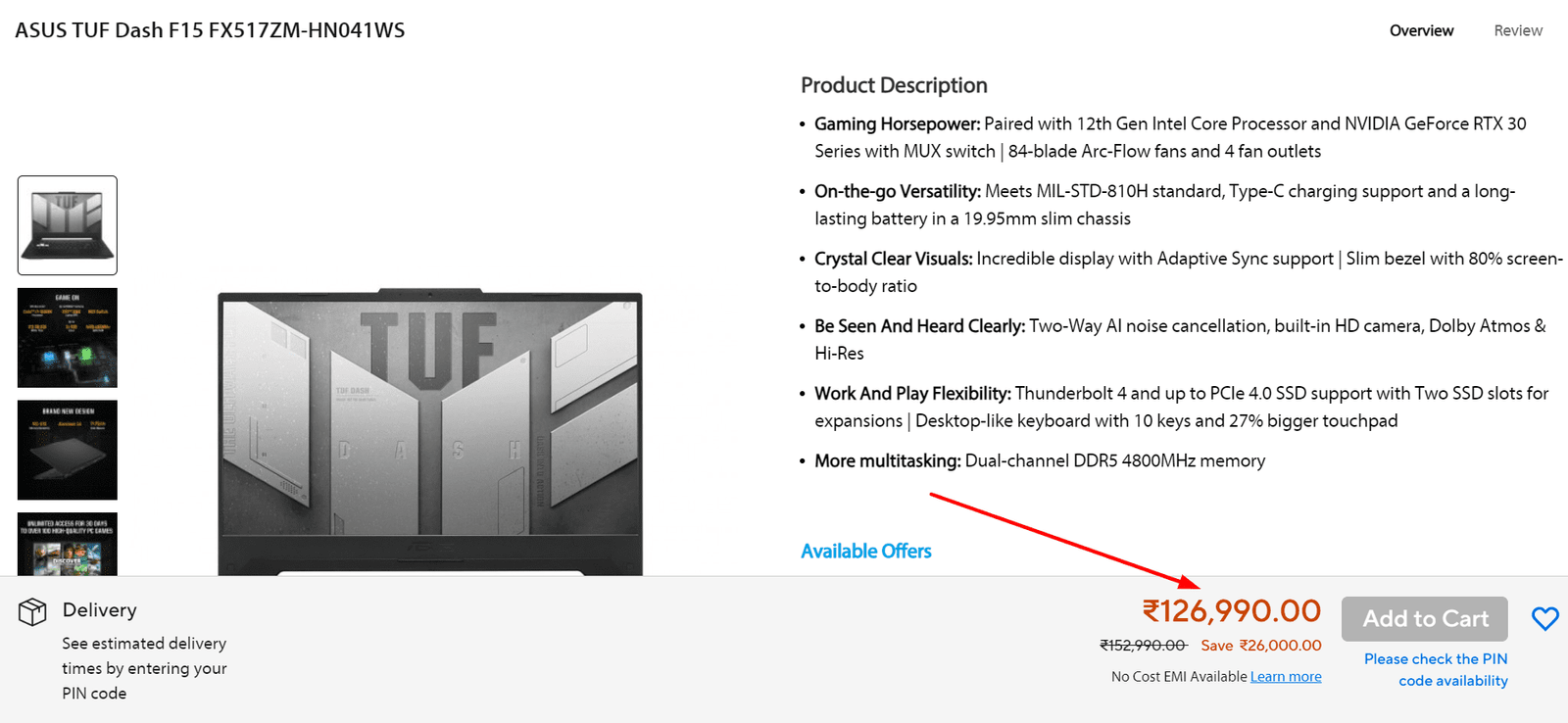 The Asus TUF Dash will cost you $1,099 (about £800, AU$1,400) for the base configuration when it launched in January 2021. A 15-inch 1080p 144Hz monitor, an Intel Core i7-11370H CPU, 16GB of RAM, a 512GB solid-state drive, and an Nvidia GeForce RTX 3060 may be yours for that amount.
Considering its extended battery life and super-portable design, the TUF Dash F15 is one of the best RTX 3000 GPU laptops for the money right now. You won't find many other gaming laptops with comparable hardware at this budget, especially not in a notebook with this level of construction. For an additional $1,699 (about £1,249 or AU$2,200), you may upgrade to a model with a white chassis and a faster processor (Intel Core i7-11375H vs Intel Core i7-11370H). You can acquire a white laptop if that's what you truly want, but for the extra money you'll be spending, it won't do much more than your regular laptop.
Construction
The TUF Dash interior and lid of our unit are matte black, while the bottom is dark grey. Also available is a model with a white exterior (the lid and bottom) and a black interior, which strikes me as odd, given that the previous-generation Asus Dash F15 also included a white exterior. I haven't seen it in person, but based on the photos I've seen, I much prefer this black version.
Design
Like standard TUFs, the inside comprises matte, smooth plastic, and the aluminium lid serves as a lock and key. Both surfaces are pleasant to the touch but easily show fingerprints and dirt, necessitating frequent cleaning. The laptop seems well-made and solid, and it hasn't made any strange noises or creaks while I've used it. Meanwhile, at slightly under 2 kilograms for this tested configuration, it is smaller and lighter than the typical mid-range 15-inch laptop.
In terms of actual use, I have mixed feelings about this design. The solid hinges and non-shaking rubber feet are great features, and I appreciate how stable the screen is once it's been set up. However, I don't like how the front lip and corners dig into my wrists, and I'm still trying to understand why Asus continues to place bright status LEDs under the screen, which are especially bothersome while using the laptop in the dark. The screen also only folds back approximately 150 degrees, which is flatter than I'd like on a device trying to imitate a portable. The port layout may be inconvenient if you intend to attach many external devices to your laptop.
Performance
Three types of gaming laptops typically come to mind: the ultra-powerful desktop replacements, the ultra-portable ones that let you game on the go, and the ones in the middle that compromise the two extremes. The Asus TUF Dash is a lightweight gaming laptop. You won't get the fastest RTX 3070 laptop on the market, but it has the newest technology from Intel and Nvidia. The hardware is configured so it won't explode into flames in such a tiny chassis.
Not that this prevents the Asus TUF Dash F15 from tearing through AAA titles. Watch Dogs with RTX on, Assassin's Creed Valhalla, and even Dirt 5 all run at playable framerates on this thing. Nvidia's second-generation ray tracing technology is included with the RTX 3070 because both are based on the company's Ampere architecture. And in games that implement this, it greatly improves performance. Using Ultra settings as an example, we could average 59 frames per second when benchmarking Metro Exodus without ray tracing. Thanks to Nvidia's excellent DLSS technology, the frame rate barely dropped to 48 when we activated it.
Battery Life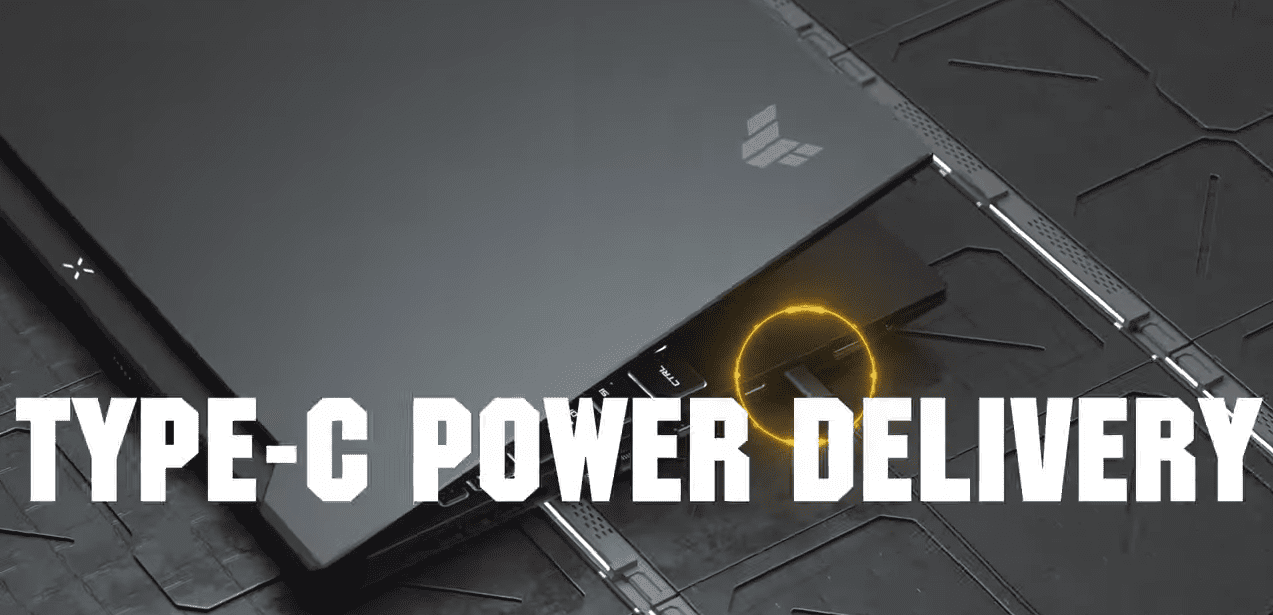 Despite recent advancements, gaming laptops still have a somewhat undeserved reputation for having poor battery life. The Asus ROG Zephyrus G14, released in early 2020, is notable for its AMD Ryzen 4000 processor and RTX 2060, which let the laptop last an incredible 8 hours during our video playback test without needing a recharge.
The Asus TUF Dash F15 outperforms its predecessors because of its nearly 10-hour battery life, robust GPU, and lightning-fast 240Hz display. This gaming laptop should have no trouble carrying you through a full workday, as it lasts for roughly 9 hours in PCMark 10 battery tests, which mimic a wide range of computing activities. Carrying it to the office without the bulky charging brick is a major benefit.