Everything You Need to Know About Btech Biotechnology
Written by
sourabh210
, In
Education
, Published On
October 18, 2023
,
69 Views
Mostly everyone is enthusiastic about the promise of biotechnology to cure disease and relieve suffering- Leon Kass. Biotechnology involves studying living organisms and other biological procedures to develop and yield medicines and more products. Those students who enjoy studying biology and chemistry can pursue biotechnology in engineering.
Having in-depth knowledge about biotechnology courses can help you form a conscious choice. This blog will teach you about the B.Tech in biotechnology course, eligibility, required skills, and job scope.
B.Tech in Biotechnology: An Overview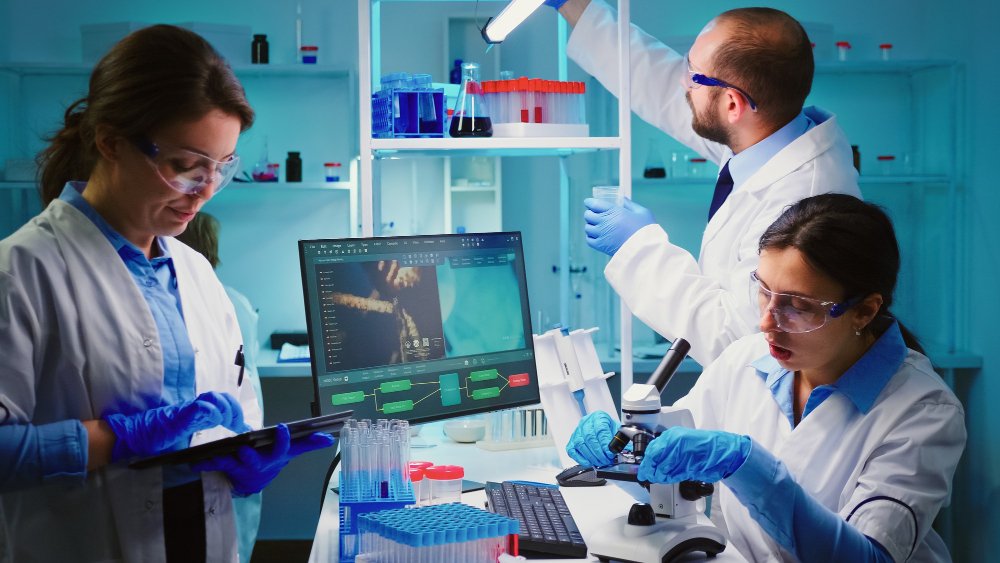 Biotechnology includes research and development of new discoveries or products. It is the field of applied biology and chemical engineering, which includes living organisms.
B.Tech in Biotechnology is a four-year undergraduate program. It comprises of various disciplines, including chemistry, biochemistry, microbiology, and engineering.
Eligibility for B.Tech in Biotechnology
To get into this course, applicants must meet the following conditions after finishing 12th grade:
Complete 12th grade from a recognized board.
They should have studied Mathematics, Physics, Chemistry, and Biology.
English is also necessary as a language.
Their age should be between 17 and 23 for this program.
You can take admission to this course through entrance tests.
Want to Take the Entrance Test? Here's How to Prepare!
Program Overview: Before preparing for your B.Tech entrance exam, gather the practice papers and review the recommended study materials. Collect your study resources for good test preparation.
Time Management: Entrance exams have time constraints, so take practice tests to boost your skills.
Mock Tests: Experience test-like scenarios to get comfortable with the exam environment.
Practice Sample Papers: Solve engineering sample papers from reputable colleges or universities to understand different questions and manage the time to answer them.
Clear Concepts: Understand fundamental concepts for each subject. Don't leave any doubts unresolved.
Consider Coaching: Coaching can help address any concerns and provide guidance. It's especially valuable for exams like B.Tech, where competition is high.
You can better prepare for your B.Tech entrance exam in a quiet ambiance.
Biotechnology is rapidly expanding and offering many career opportunities for B.Tech Biotechnology graduates. The fusion of life sciences and engineering has created a dynamic industry with diverse job prospects.
Here's a look at some exciting career paths and scopes for B.Tech Biotechnology graduates:
Research Scientist: Biotechnology research scientists work on cutting-edge projects and explore new therapies, drug development, and genetic engineering.
Bioprocess Engineer: The engineer is responsible for designing and optimizing bioprocessing methods in industries like pharmaceuticals and agriculture. They ensure efficient and cost-effective production of biotech products.
Clinical Research Associate: Clinical trials are essential for testing new drugs and therapies. Clinical research associates coordinate and monitor these trials, ensuring they adhere to regulatory standards.
Bioinformatics Analyst: With the increasing importance of data in biotechnology, bioinformatics analysts use computational tools to analyze biological data, offering insights into genomics, proteomics, and drug discovery.
Quality Control Analyst: Quality control analysts work in labs, assessing product quality and compliance with regulations.
Regulatory Affairs Specialist: Regulatory affairs specialists help organizations adhere to these regulations, ensuring product approval and market access.
Biotech Sales and Marketing: These professionals bridge the gap between biotech companies and their clients. They promote and sell biotech products, making it an ideal career for those with strong communication skills.
Biotech Entrepreneur: Many B.Tech Biotechnology graduates choose to start their ventures, developing innovative products, services, or technologies to address specific needs in the biotech industry.
Lecturer/Professor: With a Master's or Ph.D. in biotechnology, students can pursue a career in academia, conducting research at universities and colleges.
B.Tech in Biotechnology graduates are well-positioned to contribute to medical, agriculture, and environmental conservation breakthroughs, making this an exciting and promising field to pursue.
Doing B.Tech in Biotechnology from MM(DU)
MM(DU)'s B.Tech Biotechnology program offers a well-rounded curriculum, providing equal emphasis on life sciences, including Microbiology, Molecular Biology, Genetics, and Cell Biology as well as engineering subjects like Bioprocess Engineering, Biochemical Engineering, Thermodynamics, and Mass Transfer. This comprehensive course delves deeply into Industrial Biotechnology, Medical Biotechnology, Agriculture Biotechnology, and Pharmaceutical Biotechnology. The good thing is MM(DU)'s B.Tech graduates are already well placed in industry and working diligently at harnessing the synergy of science and engineering to analyze and solve intricate challenges, ultimately benefitting society.
Plus, there is no entrance exam if you want to enroll for a B.Tech in Biotechnology at MM(DU). Candidates with a background in Physics, Chemistry, and either Biology or Biotechnology are preferred for admission to B.Tech in Biotechnology at MM(DU). The university has a track record of campus placement of 93%.
So if you are keen to do a B.Tech degree in Biotechnology from a reputed university, look no further than MM(DU).
FAQs
Here are some frequently asked questions (FAQs) about B.Tech in Biotechnology:
What is B.Tech in Biotechnology?
B.Tech in Biotechnology is an undergraduate engineering program that focuses on the application of biological sciences to develop and create products and technologies for various industries, including healthcare, agriculture, and environmental management.
What are the Eligibility Criteria for B.Tech in Biotechnology?
Eligibility criteria may vary from one institution to another, but typically, candidates are required to have completed their 10+2 education with a background in science, with Physics, Chemistry, and Biology or Mathematics as core subjects. Some institutes also have their own entrance exams.
What is the Duration of the B.Tech Biotechnology Program?
The B.Tech in Biotechnology program usually spans four years, divided into eight semesters.
What Subjects are Covered in B.Tech Biotechnology?
B.Tech in Biotechnology covers a range of subjects, including molecular biology, genetic engineering, microbiology, biochemistry, bioprocess engineering, immunology, and bioinformatics, among others.
What Career Opportunities Are Available After Completing B.Tech in Biotechnology?
Graduates can pursue various careers in research and development, pharmaceuticals, healthcare, agriculture, food processing, environmental management, and more. They can work as biotechnologists, research scientists, quality control analysts, and in managerial roles.
Is B.Tech in Biotechnology the Same as a B.Sc in Biotechnology?
No, B.Tech in Biotechnology is an engineering program that includes a significant focus on technical and practical skills, while a B.Sc in Biotechnology is a more science-oriented program. B.Tech graduates often have stronger engineering and technology skills.
Do I Need to Pursue a Master's Degree After B.Tech in Biotechnology?
It is not mandatory, but many students choose to pursue a master's degree (M.Tech or M.Sc) or even a Ph.D. for further specialization and better career prospects.
Are There Any Specializations Within B.Tech Biotechnology?
Some universities offer specializations or electives within the B.Tech in Biotechnology program, such as medical biotechnology, agricultural biotechnology, and industrial biotechnology.
What is the Scope of Biotechnology in India and Abroad?
Biotechnology has a growing scope both in India and abroad. India is emerging as a hub for biotech research and development, and there are ample opportunities globally for biotechnology professionals.