10 Best Study Apps For Distance Learning Students 
The world will return to some type of normalcy in the not-too-distant future. There's plenty of time to make up for a lost time, whether it's long overdue catch-ups with loved ones, going to your favorite event, or exploring new areas. Your schedule will be jam-packed with social obligations before you realize it, leaving no time for studying. It is critical to efficiently manage your time in order to keep your learning on track. You'll be able to juggle professional, social, and academic demands with the aid of some fantastic applications.
10 Best Study Apps For Distance Learning Students
Hundreds of applications are available to assist you in increasing productivity, improving focus, and prioritizing work. Here best assignment writing services  provides you with some of the top applications on the market right now:
Evernote is an app that takes notes across desktop, mobile, and tablet. Evernote helps the work more efficiently instead of using pen and paper method. At any time, you can note notes on Evernote to stay updated. Evernote has many benefits. It helps you capture notes in your preferred way, like changing them in PDFs, images, or long-form text. Also, you can tailor your messages to suit your learning style. Evernote also has a rapid search function which gives access quickly to essential files. Evernote provides a free plan for beginners, but if you want to unlock all the features, you have to become a paid subscriber – which will cost 4.99 per month.
Todoist is known as the perfect app for distance learning students. This single app has a beautiful system loaded with functional quality that enables you to produce task lists, prioritize your workload, and manage your time. Another advantage of the Todoist app is available on all major platforms, from iOS to Android and MAC to windows. This app is famous for cross-platform functionality to switch between devices easily. As a distance learning, the student to-do list is a perfect app for beginners, but if you want, you can upgrade more rich features by subscribing for 3 per month.
Headspace is a perfect app for mental health. As a distance learning student, you can download the app on Android and iOS to access guided sleep techniques, meditations, and general well-being suggestions. Headspace app significantly reduces the pressure on the students that comes with the study. This app will help you reduce your mental tension when deadlines edge closer or exams are knocking on the door. Headspace is not free. It is priced at 4.17 per month, but students can apply for student membership for 9.99 per year.
Clockify app is specially designed to improve productivity and has a vast range of helpful quality, including calendars, reminders, and time tracking. Clockify is known as an all-in-one time management appliance. The best part is Clockify is also available on mobile devices and desktops. So distance learners can efficiently study whenever, when, and how they like. As a student, you can use Clockify to draw popular time management models such as Pomodoro and time-blocking to help you concentrate on your studies. But for a meticulously planned study schedule, this app might be risky of derailment from procrastination. This app is free to get started, but if you want to upgrade to the premium edition, you have to pay 5.49 per month.
Google Drive is one of the best apps to save essential documents like revision notes and course materials in one place, which will help to enhance organization. Google drive is known for cloud storage service apps, making it easy to store, share, and back-up crucial files. Google Drive offers free storage of 15GB; also, you can upgrade to 100GB for just 1.59 per month. Google Drive is easy to install and sign up for, providing you access to broader G Suite apps. The advantage for signing-up Google drive is to get tools like Google sheets, docs, and slides, which are free to use and are easy to handle your data processing needs.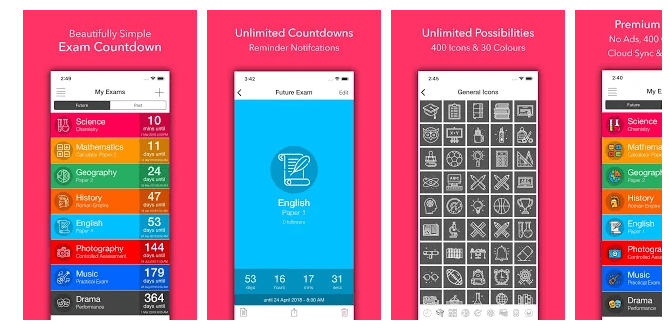 Exam countdown lite app is handy for students because this allows you to monitor your upcoming schedule of exams and track. This app automatically provides countdown updates and dispenses a breakdown of the week, days, month, and minutes until your forthcoming exam. This popular app is free, quick, and easily downloaded on Android phones and iOS. As a student, only you have to add the date and title of your exam, and Exam countdown lite will do the rest. As a student, you can add colors, can give this app a personal touch and icons to each exam.
Pocket app is a good study app that will allow you to save content and discover content. The Pocket app will provide you the feeling of the personal library that stores images, videos, articles, and more. The Pocket app also provides the service of reading it later. Pocket is available easily on the mobile app or chrome extension. In this app, you can also bookmark areas with a single button click. You can also access your library on any device because the content you save will automatically sync. The Pocket app is free, but you can choose a premium ad-free version which will cost 3.95 per month.
Brain.fm is an entertaining app that allows a music library specially designed to improve the quality and length of your concentration. You don't have to waste time finding the perfect soundtrack on YouTube or Spotify in this app. Brain.fm has the perfect mix of functional music, which provides a relaxing tone, ambiance, and upbeat. In this app, you will access assistant playlists that enhance concentration. This app is available on iOS and Android devices.
Quizlet is a good app for visual learners to succeed in their dreams. You can create custom resources from flashcards to quizzes to test your knowledge funnily. The web-based app helps make an interactive experience of studying and has hundreds of quizzes, flashcards, and test-available templates. So, you have to select the most appropriate format, and you have to add your content to go forward and get started. You can also access basic features with free membership. For unlimited access, you have to subscribe to Quizlet Plus, which will cost 47.88 per year.
Xmind is also a nice app that is an instinctual tool of mind mapping that helps bring standard notes of life. This app is very easy to interface with. You can quickly put together free-flowing brainstorms, visual revision prompts, and organized mind maps. Xmind was created for the web developer. This app has some additional functionality like relationship charts hierarchical structures that may not be useful to you. You can look at the existing templates before starting. This app is available easily on mobile devices and desktops. This app is not free, so Xmind costs 9.99 per year.